Bitcoin (BTC) has jumped to new 18-month highs — but holding its latest support is now key to avoid a "breakdown."
$35,000 decides Bitcoin range breakout validity
Data from Cointelegraph Markets Pro and TradingView shows BTC price gains continuing into Nov. 2.
BTC/USD hit $35,968 on Bitstamp after the daily close — its highest levels since May 2022 and beating last month's local peak.
Now returning to test the mettle of $35,000 as support, Bitcoin is on the radar of market participants, some of whom are not discounting the possibility of a new BTC price dip.
In his latest update, popular analyst Mark Cullen suggested that $35,000 was the significant line in the sand to defend.
"Now the Bitcoin range has broken, its a little simpler. Either hold and push on up or break down and we likely lose the major $BTC uptrend in the short term," he wrote on X, referring to the past week's comparatively sideways trading landscape.
Cullen added that Bitcoin would need to close a 4-hour candle below the $35,000 mark to flip the mood.
"No reason to e bearish until BTC close an H4 back below 35k. A dip back to test is fine & likely a #BTFD opportunity," he said.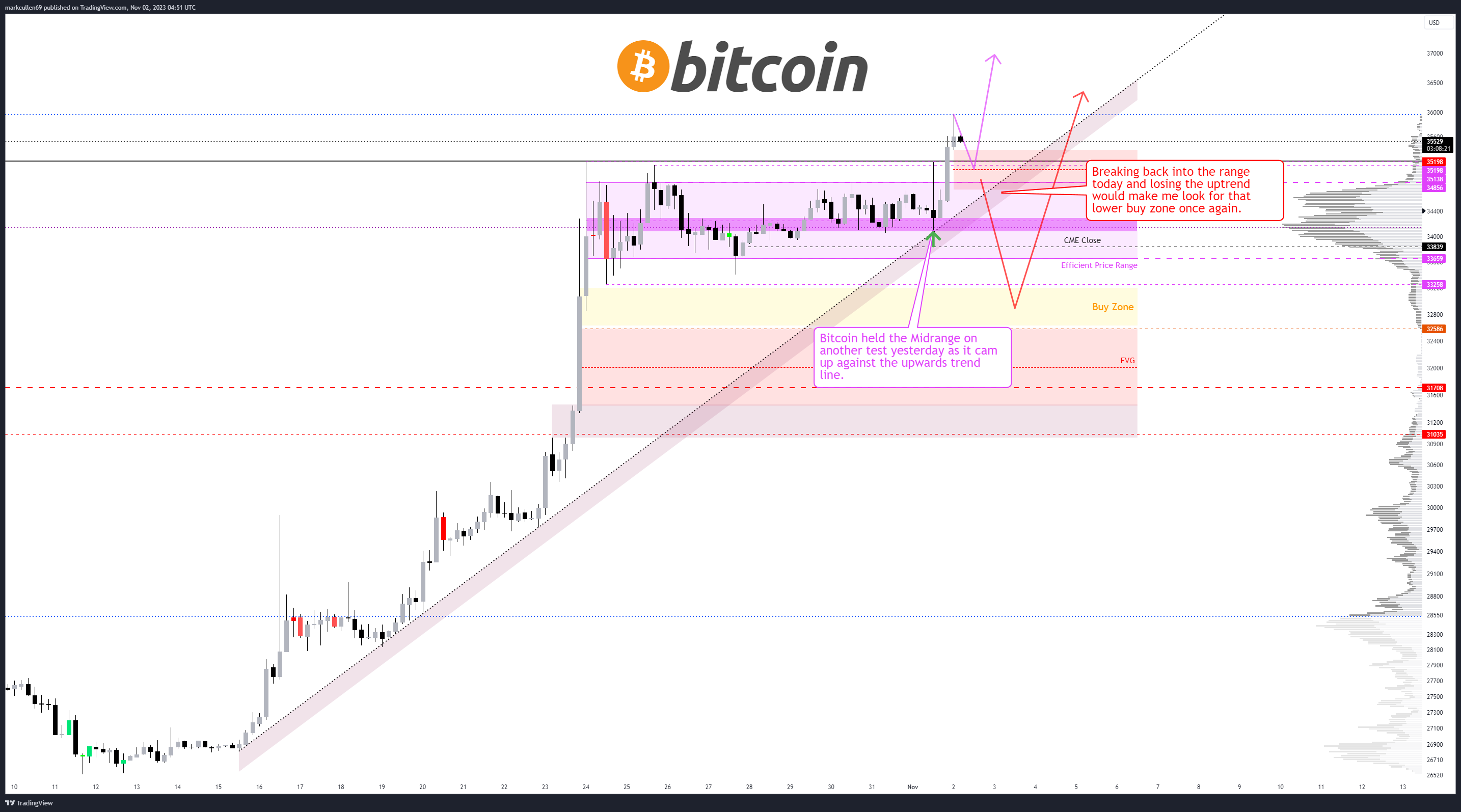 Trader: $34,600 now "ideal downside target"
Also eyeing the low-timeframe range is trader and analyst Credible Crypto.
Like Cullen, he predicted a return lower before upside continued, trapping both late longs and shorts in the process and adding to liquidations.
There is our breakout

Something like this to wipe out some late longers real quick would not surprise me.

Quick dump down into demand, late longers flushed + fresh bears pile in into demand, higher low printed, run it back up into the real pump. $BTC https://t.co/uitgSD3nV0 pic.twitter.com/QZAaYEHb28

— CrediBULL Crypto (@CredibleCrypto) November 2, 2023
On the day, he placed a zone around $34,600 as an "ideal downside target."
"Shorts shorting into support with bids stacked waiting is usually a recipe for price to squeeze/revert back to the upside," part of X commentary read.
$48,000 BTC price post-halving?
As Cointelegraph reported, bearish BTC price predictions remained even as Bitcoin reclaimed and held $34,000 over the past week.
Related: 100%+ BTC price gains? Bitcoin faces 'massively overvalued' stocks
$20,000 was a popular choice, this strongly contrasting with the popular bullish consensus…
Click Here to Read the Full Original Article at Cointelegraph.com News…